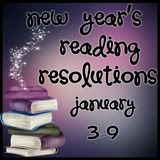 Today starts the New Years Reading Resolutions Giveaway Hop hosted by
Candace at Candace's Book Blog.
The hop goes from January 3rd - 9th. There are 100+ blogs participating and each will be giving away something bookish. Be sure to visit them all and enter to win!
My Giveaway:
I'm giving away a copy of Hunger by Jackie Morse Kessler.
Summary: "Thou art the Black Rider. Go thee out unto the world."
Lisabeth Lewis has a black steed, a set of scales, and a new job: she's been appointed Famine. How will an anorexic seventeen-year-old girl from the suburbs fare as one of the Four Horsemen of the Apocalypse?

Traveling the world on her steed gives Lisa freedom from her troubles at home: her constant battle with hunger, and her struggle to hide it from the people who care about her. But being Famine forces her to go places where hunger is a painful part of everyday life, and to face the horrifying effects of her phenomenal power. Can Lisa find a way to harness that power — and the courage to battle her own inner demons?
The contest is US ONLY.
You must leave a comment.
You DO NOT have to be a follower but following is appreciated.
Leave your email in the comment or if you're uncomfortable leaving your email in a comment send me an email at DforDarla(at)gmail(dot)com so I can get a hold of you should you win.
Make sure you visit everyone else on the list for more chances to win! Have a great time entering!